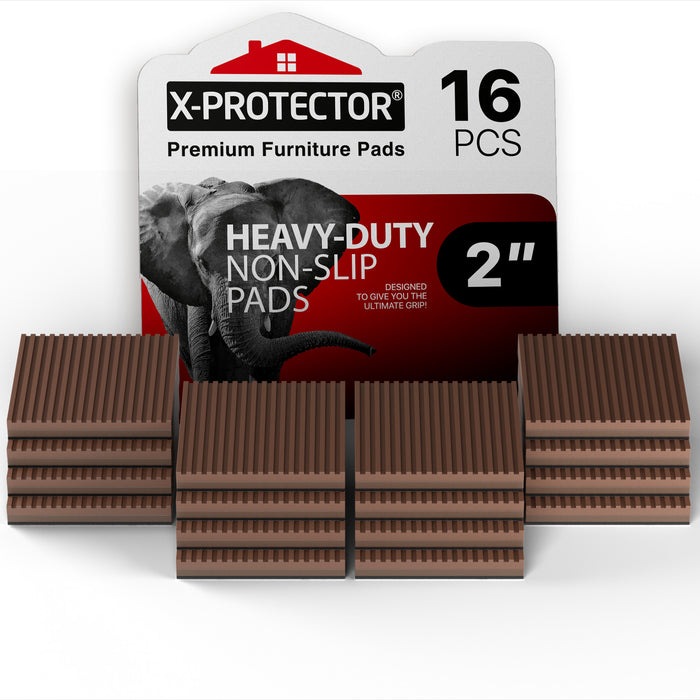 16 pcs Square X-Protector Non Slip Furniture Pads 2" - Self-Adhesive Anti Skid Pads for Furniture - Brown Furniture Pads for Hardwood Floors - Anti Slip Furniture Pads - Unique Anti Vibration Pads!
Save

$1.00
Save

$1.00
Original price
$14.91
-
Original price
$14.91
Are the vibrations emanating from your household appliances wearing you down? Seeking a solution to firmly anchor your furniture? Look no further than our premium set of 16 2" Furniture Grippers with cutting-edge anti-vibration capabilities – the remedy to your troubles!
Versatility at its Finest - X-Protector's Bed Stoppers are versatile enough for both indoor and outdoor use, and can be applied to a wide range of furniture and appliances: sofas, beds, couches, cabinets, washing machines, refrigerators, and more.
Compatible with All Surfaces - Crafted from non-staining rubber, X-Protector's Non-Slip Pads are engineered to leave no marks on your floors. What's more, these outdoor furniture leg protectors are suitable for both hard and carpeted surfaces.
Innovative Anti-vibration Design - Our Anti Slip Pad boasts a multi-layered construction aimed at mitigating different types of vibrations. Rubber foam addresses low-level vibrations, while Eva foam tackles more intense vibrations.
Trust the Original - X-Protector proudly bears a registered trademark, setting it apart from imitations. We guarantee 100% satisfaction! Should you find our Patio Furniture Feet Protectors unsatisfactory, a refund is guaranteed. Make your purchase with absolute confidence – simply click the "Add to Cart" button.
Details
Quantity: 16 pcs

Size: 2" square self-adhesive non-slip pads
Color: Brown
Materials: Rubber with strong adhesive
Ideal to use on all types of furniture: sofa, couch, bed, etc.
Video
UPC
5060664331921

Additional Description
Is your sofa constantly shifting from side to side? Are bothersome floor scratches causing you distress?
PUT AN END TO THESE ISSUES NOW WITH X-PROTECTOR'S DOUBLE FURNITURE PADS! Safeguard your floors with our secure and adhesive rubber pads that eliminate the worry of floor scratches. Bid farewell to slippery surfaces and say hello to NON-SLIP PREMIUM Furniture Pads by X-PROTECTOR – the ultimate solution for furniture stability!
This comprehensive set comprises 16 pieces of 2" Furniture Pads – the ideal floor protectors to prevent furniture from sliding and to ward off scratches. Their versatility makes them suitable for a variety of furniture items: vases, plant pots, stools, ottomans, chair and armchair legs, table legs, coffee tables, beds, sofas, couches, stools, and any other furniture pieces you wish to secure in place.
MAIN ADVANTAGES OF OUR FURNITURE PROTECTORS:
| | | | |
| --- | --- | --- | --- |
| Just clean the surface of the furniture feet, peel off the non-slip pad from the back paper, and stick it on the furniture feet. | Our non-skid floor protectors have tenacious adhesive that tightly holds pads on the furniture feet for a long period of time. Our furniture coasters will not come off! | Now, forget about repairs to the damaged floors. Forget about scratches, scuffs, and annoying noise when you move chairs and recliners. | X-PROTECTOR rubber pads are perfect for all types of hard floors: parquet, laminate, tile, marble, linoleum, concrete, and all other hard floors. |
If you're tired of consistently contending with scratches, opt for X-Protector's Furniture Pads! Our range of X-Protector products spans various types, thicknesses, sizes, shapes, and colors, providing a diverse selection. Safeguard your floors confidently, as we offer a risk-free solution. Should you be dissatisfied with our Furniture Pads, rest assured that we're committed to addressing any concerns you may have.