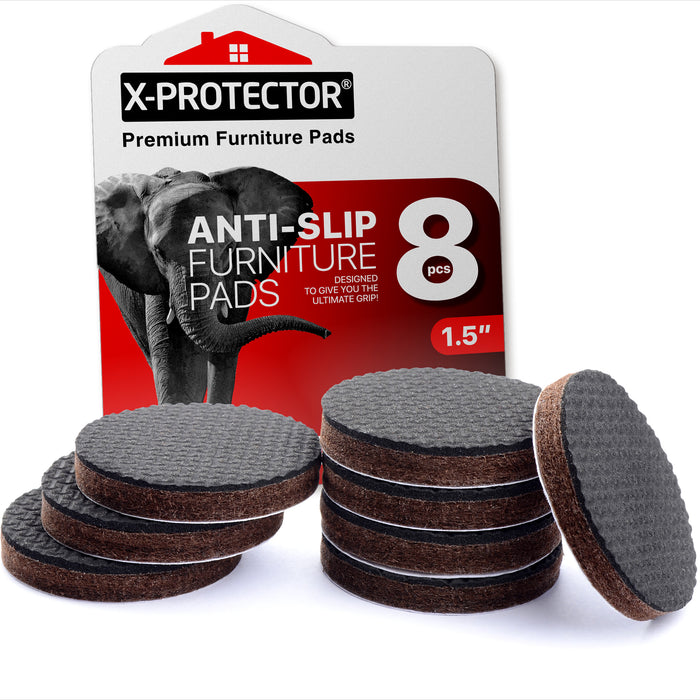 8 pcs Non Slip Furniture Pads by X-Protector 1.5" - Round Furniture Pads - Premium Furniture Grippers - Non Skid Furniture Pads - Self-Adhesive Rubber Feet for Furniture - Keep Furniture in Place!
Save

$0.00
Save

$-9.91
Original price
$9.91
-
Original price
$9.91
Is your table sliding and leaving unsightly scratches on your floor? Do you want to put an end to this problem? Look no further than our Premium Furniture Grippers, designed to provide a solution for you. Our non-slip furniture pads will effectively prevent your furniture from sliding and protect your floors from unsightly scratches!
X-Protector's furniture stoppers are suitable for use on any surface, including wood, laminate, tile floors, and more. Each set includes 8 round anti-slide furniture pads measuring 1 ½ inches in diameter, composed of thick 1/5-inch felt and rubber. These furniture non-skid pads are designed to keep your furniture securely in place on any type of flooring.
Our furniture pads for hardwood floors by X-Protector are perfect for all your furniture needs. Whether it's a sofa, bed, table, couch, or dining chair, our rubber feet for furniture will prevent them from sliding. These furniture non-skid pads are incredibly easy to use—simply adhere to the anti-slide pads, and your furniture will remain firmly in place.
With our tenacious adhesive, you won't have to worry about these rubber feet for furniture coming loose. X-Protector's furniture grips will remain securely attached to your furniture feet, ensuring they stay in place for an extended period.
X-PROTECTOR is a registered trademark, so beware of imitations. We stand behind the quality of our premium non-slip furniture pads and offer a 100% satisfaction guarantee. If you're not satisfied with our furniture stoppers, we will refund your money. Order with confidence—click the 'Add to Cart' button now without any risk!
Details
Quantity: 8 pcs.
Size: 1.5" round self-adhesive non-slip pads.
Color: Black with Brown.
Materials: solid felt 1/5", soft rubber, and tenacious adhesive.
Ideal to use on all types of furniture: cabinets, couches, and dining chairs.
Video
 UPC
5060664330658

Additional Description
Is your sofa constantly shifting from one side to another, causing scratches on your floor? Put an end to this issue right away with Double Furniture Pads by X-PROTECTOR! Shield your floor with our self-adhesive rubber pads, eliminating your worries about floor scratches. X-PROTECTOR's PREMIUM Non-Slip Furniture Pads are the ultimate solution to keeping your furniture securely in place!
This set comprises 8 pieces of 1 1/2-inch Furniture Pads, perfect for safeguarding your floor against furniture movement and potential scratches. You can use them with a variety of furniture pieces, including vases, plant pots, stools, ottomans, chair and armchair legs, table legs, coffee tables, beds, sofas, couches, stools, and any other furniture items you wish to keep stationary.
Here are the key advantages of our furniture protectors:
| | | | |
| --- | --- | --- | --- |
| Simply cleanse the furniture feet's surface, remove the non-slip pad from its backing paper, and adhere it to the furniture feet. | Our non-skid floor protectors feature a robust adhesive that securely affixes the pads to furniture feet for an extended duration. Rest assured, our furniture coasters will not detach! | Now, bid farewell to the hassle of repairing damaged floors. Say goodbye to those unsightly scratches, scuffs, and the irritating noise that accompanies the movement of chairs and recliners. | X-PROTECTOR rubber pads are suitable for a wide range of hard floor surfaces, including hardwood, laminate, vinyl, tile, marble, linoleum, concrete, and all other hard flooring materials. |
If you'd rather not deal with constant scratches, opt for X-PROTECTOR furniture pads! Our range of X-PROTECTOR products offers a wide variety of types, thicknesses, sizes, shapes, and colors to cater to your specific needs. Protect your floors with confidence, risk-free. If you're not satisfied with our furniture pads, we're here to address any concerns or issues. Your satisfaction is our priority.