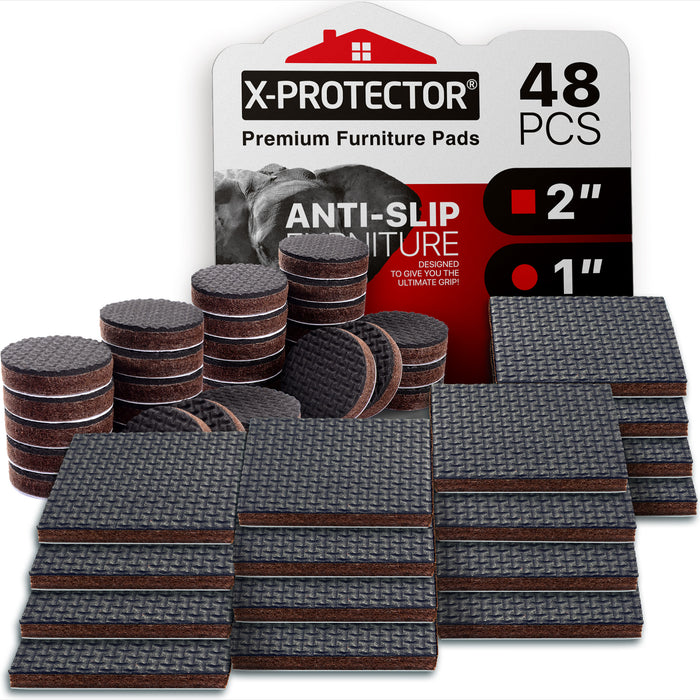 X-Protector Non-Slip Furniture Pads 48 pcs – 16 Square 2" & 32 Round 1" Self-Adhesive Furniture Grips for Furniture Feet – Rubber Non-Skid Furniture Pads – The best Floor Protectors.
Save

$1.00
Save

$1.00
Original price
$16.91
-
Original price
$16.91
Do your chairs slide and scratch the floor? X-Protector premium rubber furniture pads will keep in place all the furniture. Non-Slip Furniture pads protect floors in your lovely home.
X-Protector rubber pads have premium adhesive. Anti Slips furniture pads are perfect to protect all types of hard floors: hardwood, laminate, or vinyl from nicks, dents, and scratches.
48 square and round furniture coasters are made of 2-Layer technology from thick felt 1/5".
16 square 2" and 32 round 1" Couch grippers are perfect for a table, sofa, and chairs. It is really easy to stick floor grips to the furniture feet.
Details
Quantity: 48 pcs.
Size: 2" square and 1" round self-adhesive non-slip pads.
Color: Black.
Materials: solid felt 1/5" and rubber with tenacious adhesive.

UPC
5060664331136
Additional description
Does your sofa slide from one side to the other? Do you experience a problem with scratches on the floor?
JUST STOP IT RIGHT NOW WITH DOUBLE FURNITURE PADS BY X-PROTECTOR! Protect your floor with our non-skid self-adhesive rubber pads and stop thinking about how to get rid of scratches on your floor! NON-SLIP PREMIUM Furniture Pads by X-PROTECTOR – the greatest pads to keep in place the furniture!
The set includes 48 pcs - 16 pcs 2" Square and 32 pcs 1" round Furniture Pads – perfect floor protectors to Prevent Furniture from Sliding and Scratches. You can use them with: vases, plant pots, stools, ottomans, chair and armchair legs, table legs, coffee tables, beds, sofas, couches, stools, and any furniture you want to keep in place.
MAIN ADVANTAGES OF OUR FURNITURE PROTECTORS
| | | | |
| --- | --- | --- | --- |
| Just clean the surface of the furniture feet, peel off the non-slip pad from the back paper, and stick it on the furniture feet. | Our non-skid floor protectors have tenacious adhesive which tightly holds pads on the furniture feet for a long period of time. Our furniture coasters will not come off! | Now, forget about repairs to the damaged floors. Forget about scratches, scuffs, and annoying noise when you move chairs and recliners. | X-Protector rubber pads are perfect for all types of hard floors: hardwood, laminate, vinyl, tile, marble, linoleum, concrete, and all other hard floors. |
IF YOU WOULDN'T LIKE TO CONSTANTLY HAVE A DEAL WITH SCRATCHES - CHOOSE FURNITURE PADS BY X-PROTECTOR!
X-PROTECTOR products are available in a wide range variety of types, thicknesses, sizes, shapes, and colors. PROTECT YOUR FLOORS WITHOUT ANY RISK. IF YOU DON'T LIKE OUR FURNITURE PADS - WE'LL RESOLVE ANY ISSUES.