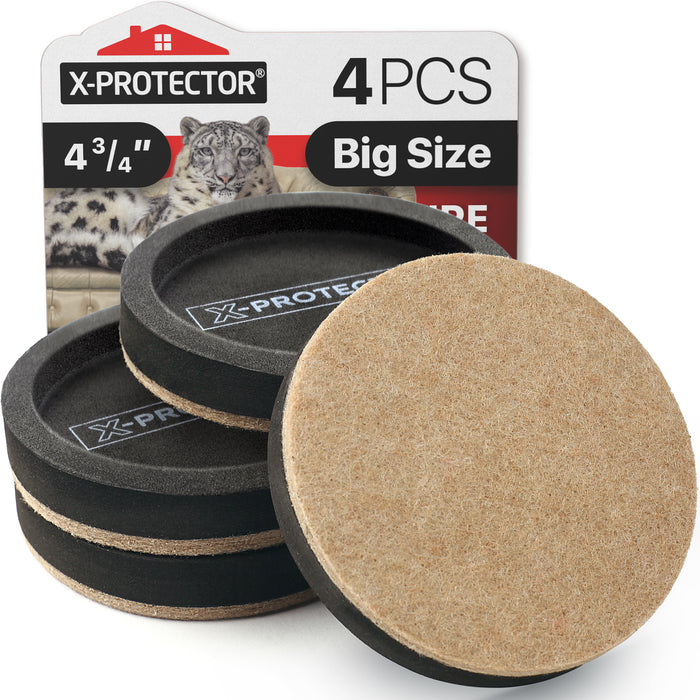 X-PROTECTOR Felt Furniture Sliders for Hardwood Floors 4 pcs 4.75" - Heavy-Duty Furniture Movers for Hard Surfaces - Furniture Slider with Unique Design - Felt Sliders - Move Your Furniture Easily!
Save

$1.00
Save

$1.00
Original price
$11.91
-
Original price
$11.91
Struggling to move your heavy furniture effortlessly? Tired of leaving unsightly scratches on your floors during furniture rearrangements? Look no further! Introducing X-Protector's Premium Felt Sliders - your ultimate solution!
Experience the convenience of 4 hard floor sliders that work like magic on any type of hard flooring. Simply slip our furniture pads under your pieces and watch them glide with ease!
These 4 3/4" hardwood floor sliders are the ideal companions for all your furniture and belongings. Engineered to ensure optimal weight distribution, they effectively prevent scratches while making furniture relocation a breeze.
Embrace the innovation of our distinctive and reusable wood floor sliders. Crafted from thick felt and rubber foam, they securely grip furniture feet without the need for adhesive. Enjoy their reliable grip for as long as you require.
Remember, X-Protector is a registered trademark, so beware of imitations. We stand by our product's quality and offer an ironclad 100% satisfaction guarantee for our furniture sliders. If they don't meet your expectations, we'll refund your purchase. Take the plunge without hesitation - click the "Add to Cart" button now!
Details
Quantity: 4 pcs
Size: 4 3/4" Hardwood Floor Sliders
Color: Beige and Black 
Materials: Heavy felt and rubber foam
Ideal to use on all types of furniture: tables, sofas, and beds.
UPC

5060664332096

Additional description
Introducing the latest innovation in Hard Floor Sliders! Unleash your unstoppable momentum! Effortless Application – Just slip these furniture sliders beneath your couch, table, dresser, or any bulky pieces, and witness how effortlessly you can glide them. Bid farewell to concerns about shifting substantial objects on your resilient floor.
Engineered for Longevity – Our commitment to quality shines through the use of premium materials. With sturdy felt and rubber foam sliders, our hardwood floor sliders are built to deliver enduring performance.
Renewable Wood Floor Sliders – The rubber foam coating on these wood furniture sliders boasts a steadfast grip, ensuring prolonged stability. Place our furniture coasters beneath the furniture leg (employ a lifter or furniture jack if needed). Once you've relocated the furniture, detach the floor sliders from the furniture feet (whether round or square – it matters not) for repeated use. Alternatively, leave them in place under the furniture to facilitate seamless shifting and cleaning.
Embrace the future of hassle-free furniture mobility!
A collection comprising 4 robust furniture moving pads, tailored to excel on all types of solid surfaces – be it hardwood, linoleum, laminate, or tile. Our high-capacity sliders stand as sentinels, safeguarding EVERY FLOOR with unwavering dedication!
Preserve both your floors and your energy using X-Protector's Furniture Moving Sliders!