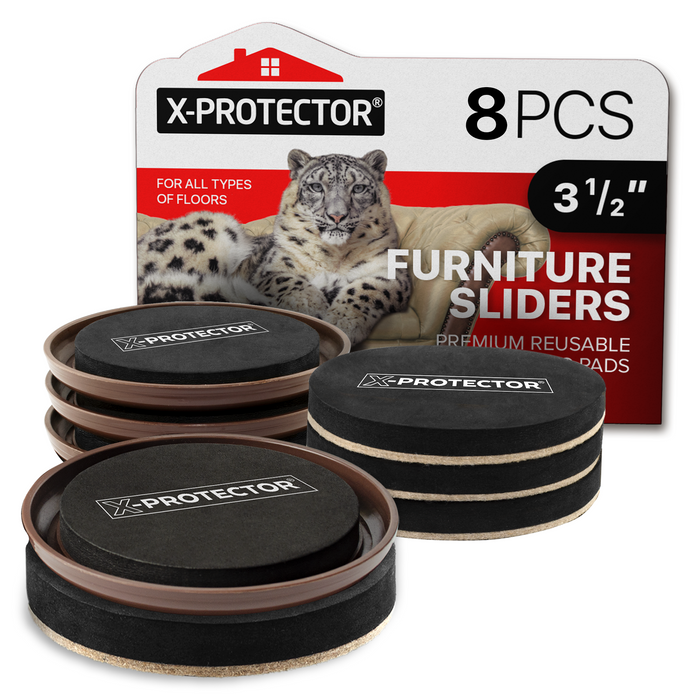 8 PCS Furniture Sliders by X-Protector 3 1/2" - Four Furniture Sliders Hardwood Floors and Four Furniture Sliders for Carpet - Moving Pads for All Floor Types - Reusable Sliders to Move Furniture Easily!
Save

$1.00
Save

$1.00
Original price
$11.91
-
Original price
$11.91
Struggling with Moving Bulky Furniture? Concerned about Floor Scratches? X-Protector Furniture Movers Simplify the Process of Sliding Heavy Furniture Across Any Surface Safely.
Furniture Moving Pads for All Types of Flooring - Includes 4 Furniture Sliders for Carpet & 4 Felt Sliders - Whether You Have Hardwood, Carpet, or Tile Floors, Our Furniture Sliders Make Moving Effortless.
Premium Quality - Crafted from Solid Felt, Sturdy Plastic, and Premium Rubber Foam, Our Furniture Sliders are Built to Endure and Can Be Repeatedly Used as Long as Necessary.
Size Matters - With a 3 1/2" Diameter, Our Furniture Sliders for Hardwood Floors Ensure Ideal Weight Distribution for Heavy Furniture. X-Protector Furniture Sliders Simplify Furniture Mobility.
X-Protector: A Registered Trademark - Beware of Imitations. We offer a 100% Satisfaction Guarantee for Furniture Moving Sliders! If You're Not Satisfied, We'll Provide a Refund. Order Risk-Free - Click the 'Add to Cart' Button!
Details
Quantity: 8 pcs
Size: 3 1/2" floor sliders for carpets and hardwood floors
Color: Black/Brown and Black/Beige
Materials: Plastic & rubber foam and Heavy felt & rubber foam
Ideal to use on all types of furniture: sofas, tables, and beds.
Video


UPC
5060664332157
Additional description
Introducing New Sliders Designed for Both Carpet and Hard Floors! NOTHING CAN IMPEDE YOUR PROGRESS! SIMPLE TO UTILIZE – Just place these furniture sliders beneath your sofa, table, dresser, or any substantial objects, and effortlessly glide them. Say goodbye to the hassle of moving large items across your carpet. IDEAL FOR ALL YOUR FURNITURE - Whether it's a chair, sofa, table, bed, dresser, cabinet, recliner, or hefty appliances, these sliders are perfect. REUSABLE – The rubber foam on our furniture glides and sliders firmly grip your furniture for a long-lasting grip. Position our furniture coasters beneath the furniture leg (use a lifter or furniture jack if necessary), and after relocating your furniture, you can remove the floor sliders from the furniture feet (whether they are round or square – it doesn't matter) for future use or simply leave them under the furniture for easy mobility and cleaning.
Key Benefits of Furniture Sliders for Multiple Surfaces:
GOOD FOR ALL TYPES OF SURFACES

The type of surface doesn't matter as the set includes plastic and felt furniture sliders. Use felt sliders on any hard surfaces and plastic sliders on carpeted surfaces.

MADE FOR LONG SERVICE

The set includes furniture sliders for carpets that are made of premium plastic and foam and furniture sliders for hard floors that are made of thick felt and foam. You can use them again & again!

FORGET ABOUT SCRATCHES AND DENTS

Furniture moving pads were developed to prevent any potential damage on carpeted and hard surfaces. They prevent scratches, dents, scuffs, and gouges when you move your furniture.