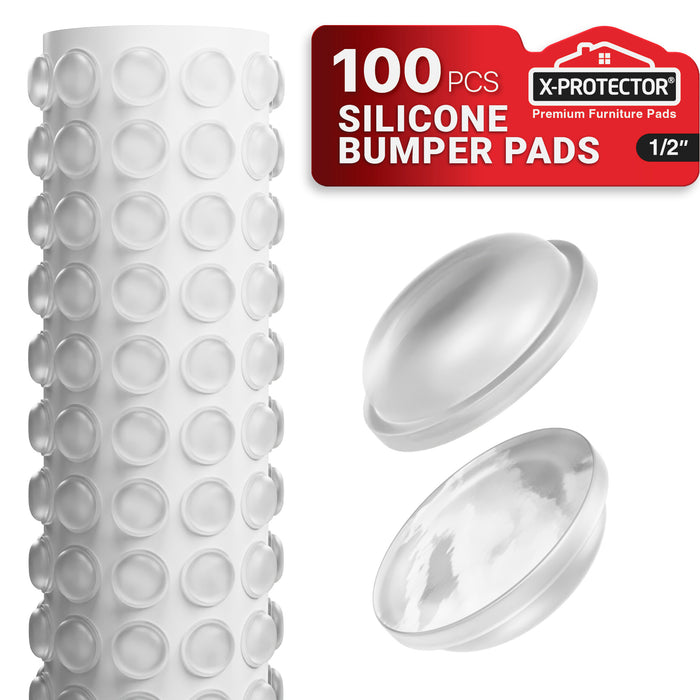 Cabinet Door Bumpers 100 pcs by X-Protector – Ideal Cabinet Bumpers – 1/2" Silicone Clear Bumpers – Self-Adhesive Thick Door Silencer – Bumper Pads to Protect Glass & Other Surfaces!
Save

$0.00
Save

$-9.91
Original price
$9.91
-
Original price
$9.91
Are you frustrated with the loud noise made by your cabinet doors when they close? Say goodbye to slamming! X-PROTECTOR Cabinet Door Bumpers enable you to gently close your cabinet doors in serene silence.
Large quantity alert! X-PROTECTOR offers a generous pack of 100 pieces of 0.5-inch Cabinet Bumpers, ideal for safeguarding ALL items in your home – be it cabinets, doors, drawers, appliances, electronics, picture frames, or glass table tops. Protect all types of surfaces from unsightly scratches!
Count on the strongest adhesive! With X-PROTECTOR, you can confidently attach these door bumpers to any surface, ensuring they won't come off like cheaper cabinet door pads.
X-PROTECTOR uses premium material – soft, clear, and eco-friendly silicone. Our noise-dampening bumper pads are crafted from top-quality, eco-friendly silicone (not inferior rubber), guaranteeing long-lasting performance from your cabinet door bumpers.
X-PROTECTOR stands by its products and ensures your complete satisfaction with our glass tabletop bumpers. If you're not pleased with our clear cabinet bumpers, we will refund your money – just let us know. Make a risk-free order now by clicking the "ADD TO CART" button!
Details
Quantity: 100 pcs
Size: 1/2"
Color: Clear
Materials:

 

Silicone

.
EAN

5060664332508

Additional description
MAIN ADVANTAGES OF FELT DOTS BY X-PROTECTOR:
Here are the key benefits of our cabinet and furniture bumpers:
Minimizes the loud noises from door slamming; suitable for various surfaces such as cabinets, cupboards, glass products, and doors.
Offers non-slip protection to prevent scratching; apply our rubber pads to items like audio and video equipment, electronics, computers, glass surfaces, cutting boards, and more.
Get a set of 100 pieces of ½" rubber pad bumpers now; their perfect size ensures compatibility with all your home furniture and items.
DURABLE ADHESIVE

Our rubber pad bumpers have the BEST ADHESIVE 3M! Be sure that pads do not come off like the cheaper ones.

HIGH-QUALITY FELT MATERIAL

Our self-adhesive bumpers are made of premium transparent silicone (not cheap rubber) and they will work for You softly and long.




LARGE BUNDLE

They're waterproof, so they're a good choice for under-sink cabinets that might get splashed.
Avoid the hassle of dealing with noisy doors and slipping items by adding this set to your cart immediately! Make your home quieter with X-Protector rubber pad bumpers!
X-Protector liability does not exceed the cost of the product.