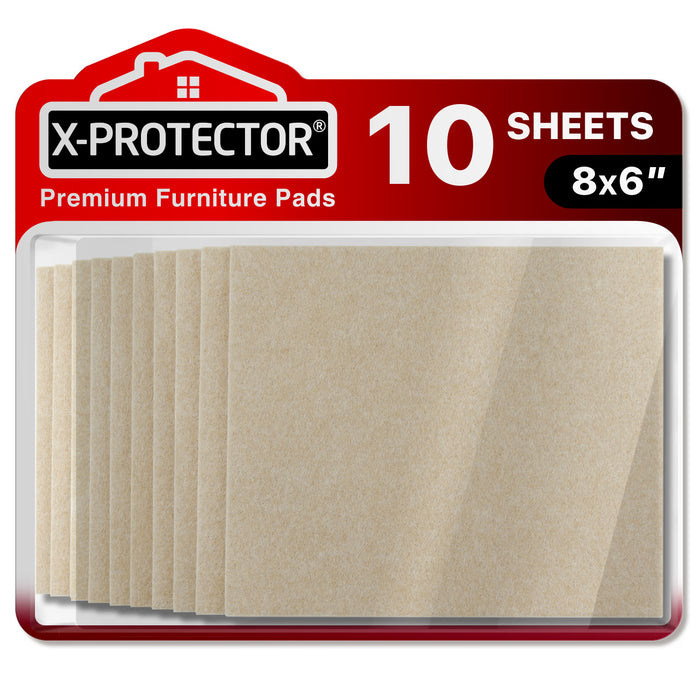 Premium Felt Furniture Pads by X-PROTECTOR - 10 pcs 8"x6"x1/5" - Heavy Duty Beige Felt Sheets - Cut Large Furniture Pads to The Size You Need - The Best Felt Floor Protectors for Any Hard Floor!
Save

$1.00
Save

$1.00
Original price
$15.91
-
Original price
$15.91
Say goodbye to worries about scratches! X-Protector Furniture Felt Pads provide top-notch protection for all types of hard floors. Our furniture pads act as a robust shield, meticulously safeguarding your surfaces.
X-PROTECTOR offers 10 Heavy-Duty 8" x 6" x 1/5" Beige Felt Sheets that you can customize to fit your needs. Whether your chairs have round legs, recliners have square legs, or your couch has unique furniture feet, these felt sheets are versatile.
Suitable for all home furniture! These furniture leg protectors are ideal for a wide range of chair legs and other furniture feet. Just affix our furniture floor pads and revel in the perfection of your floors!
Featuring thick felt and tenacious adhesive! Our hardwood floor felt pads are crafted from eco-friendly felts with recycled fibers, and their strong adhesive ensures enduring performance.
Remember, X-PROTECTOR is a registered trademark – beware of imitations. We guarantee your satisfaction with our chair pads! If you're not satisfied, simply let us know. Order now with confidence by clicking the 'Add to Cart' button!
Details
Quantity: 10 pcs
Size: 8" x 6" x 1/5"
Color: Beige
Materials: Strong eco-friendly material and recycled fiber with tenacious adhesive.
Ideal to use on all types of furniture: chair legs, furniture feet, and other home furniture, or electrical appliances.
Video
UPC
5060664331723
Additional description
Exceptional Quality – X-PROTECTOR felt chair pads boast premium-quality felt, providing robust protection for your floors, furniture, and various surfaces.
Reliable Adhesion – Our chair leg floor protectors feature a steadfast adhesive that securely anchors the pads to your furniture, ensuring long-lasting performance.
Versatile Suitability – Our wood floor protectors are ideal for all your substantial furniture pieces, including chairs, tables, sofas, beds, recliners, ottomans, and more.
The package includes 10 Heavy-Duty 8" x 6" x 1/5" Beige Felt Sheets.
MAIN ADVANTAGES OF OUR FURNITURE PADS X-PROTECTOR:
| | | | |
| --- | --- | --- | --- |
| To begin, start by cleaning the furniture's feet surface. Afterward, trim the felt pad to your desired size, peel it from the backing paper, and adhere it to the feet. | The chair leg floor protectors feature a strong adhesive that securely grips the pads onto the furniture's feet, ensuring prolonged durability. | You won't have to worry about repairing your damaged floor anymore. Bid farewell to scratches, scuffs, and the irritating noise caused by moving chairs and recliners, thanks to our felt furniture sliders. | X-PROTECTOR felt pads are suitable for a wide range of flooring types, including hardwood, laminate, linoleum, tile, and more. |
X-PROTECTOR offers an extensive selection of products designed to deliver optimal protection for all the furnishings and possessions within your beloved home.
Hardwood and laminate floors demand safeguarding against potential damage caused by the constant movement of furniture feet and the weight of heavy furnishings. Chairs, recliners, sofas, ottomans, beds, and cabinets - all of these furniture items have the potential to harm your floors, resulting in both financial and time-consuming repairs.