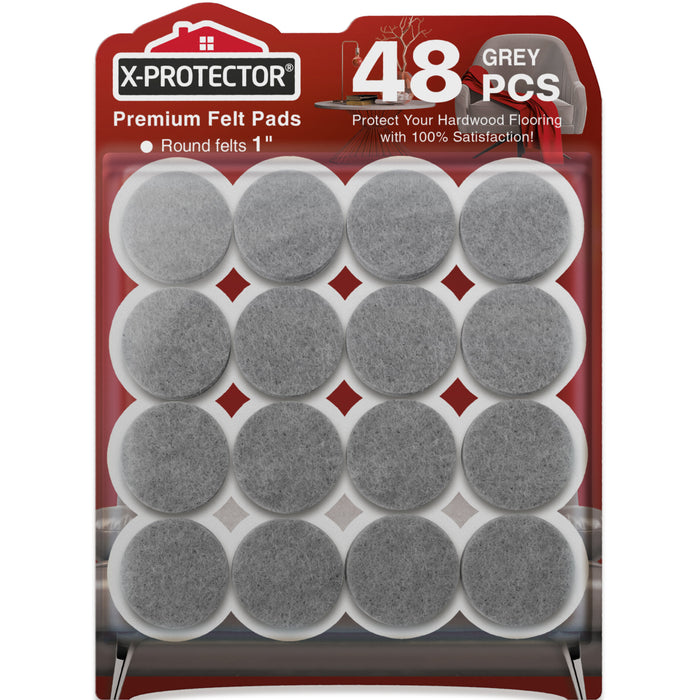 48 pcs Grey Premium X-Protector Felt Furniture Pads - Best Furniture Pads for Hardwood Floors - Chair Felts Pads for Furniture Feet Wood Floors - Felt Pads Floor Protector - Protect Your Wood Floors!
Save

$0.00
Save

$-9.91
Original price
$9.91
-
Original price
$9.91
Do your chairs scratch your floors when they move? Don't worry about scratches anymore! X-PROTECTOR furniture felt pads are the best floor protectors for furniture legs, whether you have wooden, laminate, or tiled floors!
Our perfect pack includes 48 round felt furniture pads of premium quality. These 1" chair leg protectors are the ideal size to fit most of your home furniture and prevent scratches.
Made of premium 1/5 inch felt and featuring tenacious adhesive, X-PROTECTOR felt pads for furniture will securely hold onto your furniture feet for a long time.
Suitable for any home furniture, our wood floor protectors are perfect for chair legs and furniture feet. Applying them to your furniture is easy!
X-PROTECTOR is a registered trademark, so beware of copies. We guarantee your full satisfaction with our premium felt furniture pads. If you're not happy with our hardwood floor protectors, simply let us know and we will refund you. Order without risk by clicking the "Add to Cart" button right now!
Details
Quantity: 48 pcs
Size: 1 inch
Color: White
Materials: recycled fibers with tenacious adhesive 
UPC
5060664330399

Additional description
Here are the main advantages of X-PROTECTOR furniture pads:
High Quality: Our felt chair pads are made of strong, high-quality felt that provides solid protection for your floor, furniture, and other surfaces.

Tenacious Adhesive: Our chair leg floor protectors feature a tenacious adhesive that keeps them securely attached to furniture feet for a much longer time compared to cheap pads.

Suitable for All: Our wood floor protectors are perfect for any type of chair legs, furniture feet, and other home furniture. They can be easily attached to any of your home furniture and items.

Perfect Size: To ensure complete protection for your furniture and surfaces, we offer a large set of 48pcs of 1" felt pads that are designed to fit most of your furniture.
These are the main advantages of X-PROTECTOR furniture pads.
| | | | |
| --- | --- | --- | --- |
| To begin, make sure to clean the surface of the furniture feet. Next, peel the felt pad from the paper backing and apply it to the feet. | The chair leg floor protectors we offer feature a strong adhesive that securely keeps the pads attached to the furniture's feet for an extended duration. | You no longer have to worry about repairing damaged floors. Say goodbye to scratches, scuffs, and bothersome noise caused by moving chairs and recliners, thanks to our felt furniture sliders. | X-PROTECTOR felt pads are suitable for various types of flooring, including hardwood, laminate, vinyl, tile, and more. |
X-PROTECTOR leads the industry in designing, manufacturing, and distributing surface protection products. We utilize the latest technology and advancements while maintaining a strong commitment to delivering high-quality products for all the furniture in your beautiful home.
Our felt materials are carefully selected and are of superior quality, often consisting of eco-friendly materials or a blend of natural fibers.
At X-PROTECTOR, we offer a wide range of products that provide optimal protection for all the furniture and items in your lovely home.
It's essential to safeguard hardwood and laminate floors from damage caused by furniture feet constantly moving and the pressure exerted by heavy furniture. Whether it's chairs and recliners, sofas and ottomans, beds, or cabinets, all types of furniture have the potential to harm your floors, leading to unnecessary expenses and time-consuming repairs.