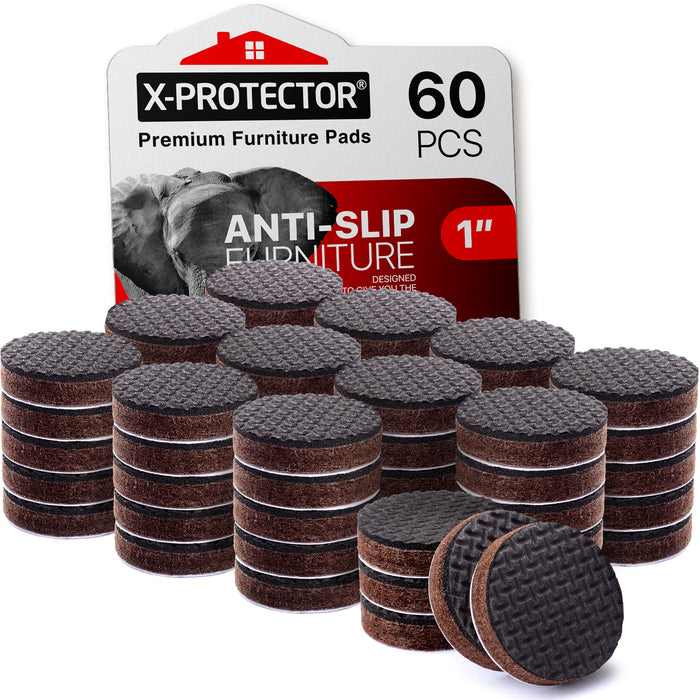 60 pcs Non-Slip Furniture Pads for Hardwood Floors 1" by X-Protector - Self-Adhesive Rubber Furniture Pads Non Slip - Round Anti Slip Furniture Pads - Ideal Furniture Stoppers to Prevent Sliding!
Save

$1.00
Save

$1.00
Original price
$12.91
-
Original price
$12.91
Is your sofa prone to sliding and causing interruptions? Are your chairs leaving unsightly scratches on your floors? Look no further than X-Protector Self-Adhesive Anti-Skid Pads for Furniture Feet to keep your furniture securely in place and protect your floors!
Exceptional Adhesive - X-Protector Furniture Grippers boast a powerful adhesive that ensures your non-slip furniture grippers won't budge. These rubber stoppers for furniture are designed to stay firmly in place indefinitely!
Innovative 2-Layer Technology - Our couch stoppers, engineered from thick 1/5" felt and soft rubber, create a robust barrier between your floors (hardwood, laminate, etc.) and your furniture, preventing any unwanted sliding.
Generous Quantity - This pack includes 60 round 1" furniture stoppers, perfect for a wide range of furniture types. You'll have an abundance of furniture grippers for hardwood floors to cater to all your needs!
Trust in X-Protector - Remember, X-Protector is a registered trademark, so be cautious of imitations. We stand by our non-slip pads for furniture, and your satisfaction is guaranteed. If you're not pleased with our product, we will happily provide a refund. Take the risk-free step and click "Add to Cart" now!
Details
Quantity: 60 pcs.
Size: 1-inch round self-adhesive non-slip pads.
Color: Black and Brown.
Materials: solid felt 1/5" and soft rubber and tenacious adhesive.
Ideal to use on all types of furniture: sofas, dining chairs, and tables.
Video
 UPC
5060664332409
Additional Description
Is your sofa constantly shifting from side to side, causing a nuisance? Are you tired of dealing with unsightly floor scratches? Put an end to these issues once and for all with X-Protector's Double Furniture Pads! Safeguard your floors with our self-adhesive rubber pads, and bid farewell to worries about floor scratches. X-Protector's Non-Slip Premium Furniture Pads are the ultimate solution for keeping your furniture securely in place!
This set includes 60 pieces of 1" Furniture Pads, ideal floor protectors to prevent furniture from sliding and causing scratches. These versatile pads can be used with vases, plant pots, stools, ottomans, chair and armchair legs, table legs, coffee tables, beds, sofas, couches, stools, and any other furniture you wish to keep firmly in place.
LET'S SEE WHAT IS SO GREAT ABOUT OUR FLOOR PROTECTORS:
Easy to put

Just clean the surface of the furniture feet, peel off the nonslip pad from the back paper, and stick it on the furniture feet.

Long Lasting

Our non skid floor protectors have tenacious adhesive which tightly holds pads on the furniture feet for a long period of time. Our furniture coasters will not come off!

Protect the floor

Now, forget about repairs to the damaged floors. Forget about scratches, scuffs, and annoying noise when you move chairs and recliners.

For all types of the floor

X-PROTECTOR rubber pads are perfect for all types of floors: hardwood, laminate, tile, marble, linoleum, concrete and all other hard floors.
If you want to avoid the constant hassle of dealing with scratches, opt for X-Protector Furniture Pads! X-Protector offers a diverse range of products with various types, thicknesses, sizes, shapes, and colors. Protect your floors without any worries. If you're not satisfied with our furniture pads, rest assured, we'll address any concerns and find a solution. Your satisfaction is our priority.