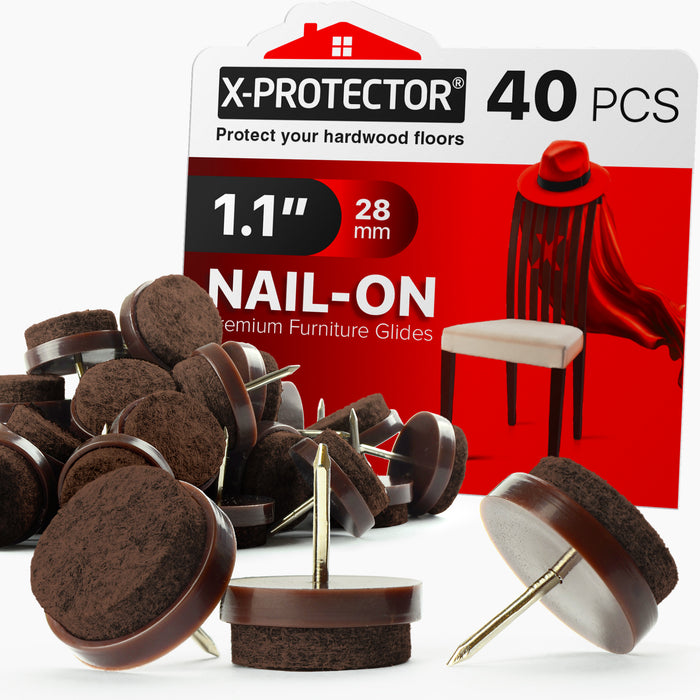 Brown X-PROTECTOR Nail-on Felt Furniture Pads 40 pcs 1.1" - Nail in Furniture Pads for Furniture Legs - Chair Leg Floor Protectors - The Best Felt Chair Pads for Hardwood Floors (28mm)!
Save

$1.00
Save

$1.00
Original price
$14.91
-
Original price
$14.91
Do the chairs move and scratch the floor? Say "NO" to scratches and scuffs! X-Protector Nail-on Felt Furniture Pads will keep your vinyl, tile, or hardwood protected. X-Protector Furniture Felt Pads are the best-felt pads for Furniture on The Hardwood Floor!

Just pre-drill a hole and nail in felt pads for chair legs in the furniture leg and forget about scratches! High-quality nails ensure superior hold on all kinds of wooden furniture.
X-protector 40 pads 1.1" are made of extra strong felt 1/6". Heavy-duty felt chair glides by X-Protector will not wear out and provide solid protection for laminate, parquet, and wood. X-Protector chair felt pads are suitable for any furniture feet and chair legs. Hammer chair leg furniture pads easily in the furniture.
Details
Quantity: 40 pcs
Size: 1.1"
Color: Brown
Materials: High-quality nails with a durable thick felt layer 
EAN
5060664331754

Additional Description
MAIN ADVANTAGES OF FURNITURE PAD X- PROTECTOR:
HIGH QUALITY – our heavy-duty felt pads are made of STRONG HIGH-QUALITY FELT and provide for Your floor, furniture, and other surfaces caring solid protection.
LONG-LASTING PERFORMANCE - our floor protectors for furniture legs have STRONG NAIL that keeps heavy-duty felt pads on the furniture feet MUCH LONGER.
SUITABLE FOR EVERYTHING – our felt chair pads for hardwood floors are perfect for any type of chair legs, furniture feet, and other home furniture. It's very easy to hammer our nail-on felt pads into any of Your home furniture.
PERFECT SIZE TO FIT MOST OF YOUR FURNITURE – for total protection of furniture and surfaces in Your home we made a big set of 40 pcs 1.1" felt chair pads.
| | | | |
| --- | --- | --- | --- |
| First of all, you need to clean the surface of the furniture feet. Then pre-drill a hole in the center of the wooden furniture leg and carefully tap the nail into the pre-made hole. | Our chair leg floor protectors have an extra-strong metal nail, that ensures that our heavy-duty felt pads will not come off for a long time. | Now, no need to repair the damaged floor. Forget about scratches, scuffs, and annoying noise when you move chairs and recliners with our floor protectors for furniture legs. | X-Protector felt pads perfect for all types of floors: hardwood, laminate, vinyl, tile, and others. |
ELIMINATE THE POSSIBILITY OF SCRATCHES WITH FELT PADS X-PROTECTOR!