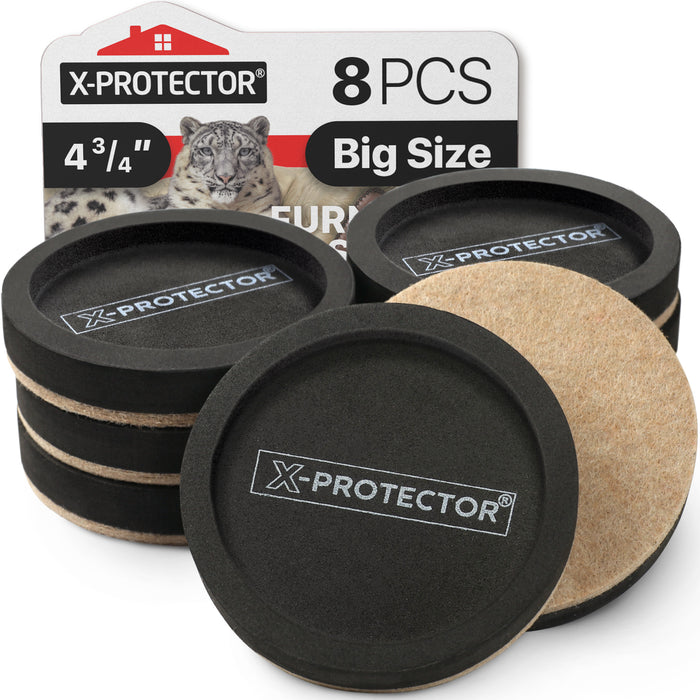 X-PROTECTOR Felt Furniture Sliders for Hardwood Floors 8 pcs 4.75" - Heavy-Duty Furniture Movers for Hard Surfaces - Furniture Slider with Unique Design - Felt Sliders - Move Your Furniture Easily!
Save

$1.00
Save

$1.00
Original price
$14.91
-
Original price
$14.91
ARE YOU STRUGGLING TO MOVE HEAVY FURNITURE WITH EASE? TIRED OF DAMAGING YOUR FLOOR WHILE REARRANGING? SAY GOODBYE TO THOSE WORRIES - X-PROTECTOR'S PREMIUM FELT SLIDERS ARE HERE TO ASSIST YOU!
EIGHT-HARD FLOOR SLIDERS THAT TRANSFORM MOVING ON ANY SOLID SURFACE - Effortlessly slide our furniture pads beneath ANY PIECE OF FURNITURE and WATCH IT GLIDE SMOOTHLY!
THE PERFECT SIZE - 4 3/4" HARDWOOD FLOOR SLIDERS SUITED FOR ALL FURNITURE AND ITEMS, offering optimal weight distribution that SAFEGUARDS AGAINST SCRATCHES and FACILITATES HASSLE-FREE FURNITURE RELOCATION!
INNOVATIVE DESIGN FOR ENDLESS REUSE - Our wood floor sliders feature a THICK FELT AND RUBBER FOAM COMBINATION. With no adhesive on the top, these hardwood sliders GRIP FURNITURE FEET SECURELY, ensuring LONG-LASTING UTILITY.
X-PROTECTOR: A TRUSTED REGISTERED TRADEMARK - BEWARE OF IMITATIONS. We stand behind our FURNITURE SLIDERS, PROMISING 100% SATISFACTION. UNSATISFIED? WE OFFER A FULL REFUND! EMBRACE A RISK-FREE PURCHASE - CLICK "ADD TO CART" NOW!
Details
Quantity: 8 pcs
Size: 4 1/2" hardwood floor sliders
Color: Black and Beige
Materials: Heavy felt and rubber foam
Ideal to use on all types of furniture: tables, sofas, and beds.
UPC

5060664332089

Additional description
Introducing BRAND NEW Hard Floor Sliders - UNSTOPPABLE MOMENTUM AWAITS YOU!
SIMPLE TO UTILIZE - Effortlessly place these furniture sliders beneath your sofa, table, dresser, or any substantial item, enabling seamless and swift gliding. Bid farewell to concerns about relocating bulky pieces across your unyielding flooring.
DESIGNED FOR LONG-LASTING PERFORMANCE - Crafted from premium materials, our hardwood floor sliders feature robust felt and rubber foam sliders, ensuring extended durability.
REUSABLE SLIDERS FOR WOOD FLOORING - The rubber foam on these wood furniture sliders offers a secure grip, guaranteeing long-lasting stability. Slide our furniture coasters beneath furniture legs (utilizing a lifter or furniture jack if necessary). After repositioning your furniture, effortlessly detach the floor sliders from furniture feet (whether round or square, it matters not) for subsequent use. Alternatively, leave them beneath the furniture for convenient mobility and effortless cleaning.
COLLECTION of 8 ROBUST FURNITURE SLIDERS IDEAL FOR EVERY SOLID SURFACE - be it hardwood, linoleum, laminate, or tile – our heavy-duty sliders ensure the SAFETY of ANY TYPE OF FLOORING!
PRESERVE YOUR FLOORING AND CONSERVE YOUR ENERGY WITH X-PROTECTOR FURNITURE MOVING SLIDERS!