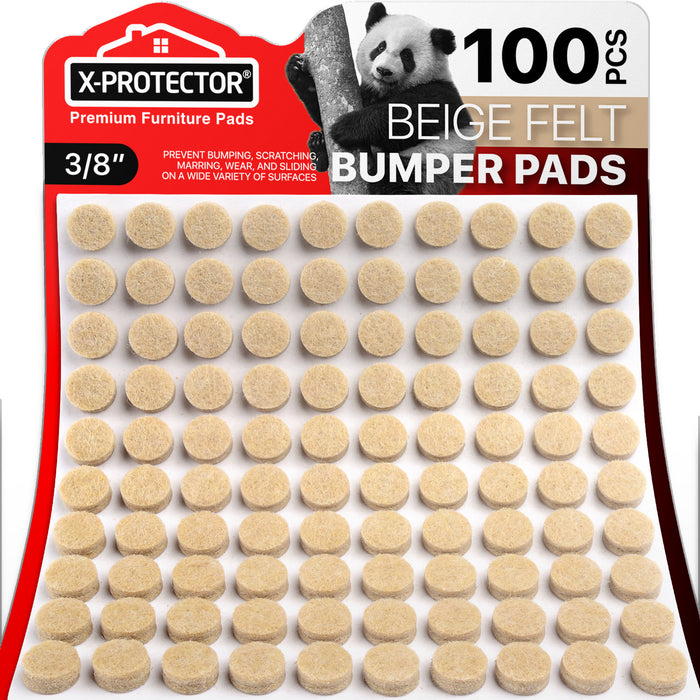 100 pcs Cabinet Door Bumpers by X-Protector – Ideal Beige Felt Bumpers – Small Felt Pads 3/8" – Self-Adhesive Thick Felt Dots – Bumper Pads to Protect Glass and Other Surfaces!
Save

$0.00
Save

$-9.91
Original price
$9.91
-
Original price
$9.91
Rephrase text: Would you like to prevent the annoying noise while closing cabinet doors? Do you want to protect the glass table and other surfaces from scratches? FELT BUMPERS BY X-PROTECTOR WILL DEFINITELY HELP YOU TO SOLVE THESE PROBLEMS!
Drawer Bumpers by X-Protector are made of THICK AND HIGH-QUALITY FELT – Small Felt Pads are 1/5" thickness – IT'S ENOUGH TO PROTECT ANY SURFACE AND REDUCE THE ANNOYING NOISE FROM CABINET DOOR SLAMMING!
Bumper Pads by X-Protector have STRONG & SOFT ADHESIVE – Tenacious Adhesive holds drawer bumpers securely – forget about felt pads for cabinet doors that come off – BUMPER PADS WILL STAY PUT ON ANY SURFACE FOR A LONG TIME!
BIG PACK OF FELT PADS FOR CABINET DOORS – PACK INCLUDES 100 pcs of round 3/8" Sound Dampening Door Bumpers – IT WILL BE ENOUGH TO PROTECT ALL SURFACES FROM SCRATCHES FOR A LONG PERIOD OF TIME!
X-PROTECTOR IS A REGISTERED TRADEMARK – AVOID THE COPIES. WE GUARANTEE FULL SATISFACTION WITH OUR PREMIUM GLASS TABLETOP BUMPERS! If You don't like them – WE WILL REFUND YOU. ORDER IT NOW WITHOUT RISK – PRESS THE BUTTON «ADD TO CART»!
Details
Quantity: 100 pcs
Size: 3/8"
Color: Beige,
Materials:

 

Strong eco-friendly felt material with recycled fiber

 and

 tenacious adhesive.
EAN

5060664330610

Additional description

MAIN ADVANTAGES OF FELT DOTS BY X-PROTECTOR:
DURABLE ADHESIVE

Our tenacious adhesive ensures a secure grip for your drawer bumpers. Say goodbye to concerns about cabinet door felt pads coming loose – our bumper pads will remain firmly in place on any surface for an extended period.

HIGH-QUALITY FELT MATERIAL

Our beige Small Felt Pads boast a thickness of 1/5 inch, providing ample protection for any surface and effectively minimizing the bothersome noise caused by cabinet door slamming!




LARGE BUNDLE

This bundle comprises 100 round 3/8" Sound Dampening Door Bumpers, ensuring more than enough coverage to protect all your surfaces from scratches for an extended duration!
IF YOU PREFER DEALING WITH FREQUENT SURFACE SCRATCHES AND THE IRRITATING NOISE OF CABINET DOORS, SMALL FELT PADS FROM X-PROTECTOR WILL CERTAINLY COME TO YOUR AID!