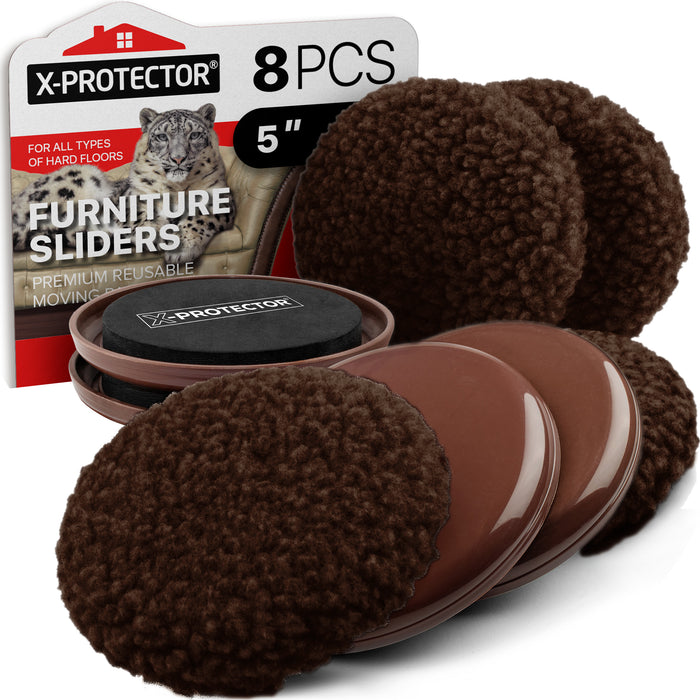 Furniture Sliders by X-Protector 4+4 - Pack 5" Brown Multi-Surface Furniture Sliders for Carpet and Hard Floors - 4 Furniture Movers for Carpeted Floors and 4 Hardwood Socks - Move Furniture Easily!
Save

$1.00
Save

$1.00
Original price
$14.91
-
Original price
$14.91
Struggling to move heavy furniture with ease? Whether you have carpeting or hardwood floors, X-PROTECTOR's Multi-Surface Furniture Movers with socks are here to make your life easier! No matter the type of floor, these sliders will empower you to effortlessly move any piece of furniture.
Experience the versatility of our Furniture Moving Pads designed for all surfaces. This package includes 4 furniture sliders tailored for carpets and 4 Hardwood Socks perfect for any hard flooring like wood or tile. Employ the sliders on carpets and switch to the socks for smooth movement on hard surfaces. It's like having 2 tools in 1 to ensure your furniture glides smoothly!
Size matters and X-PROTECTOR's Furniture Sliders are precisely sized at 5 inches. This ideal dimension ensures optimal weight distribution, safeguarding your floors from unwanted scratches and marks. Worries about damage are a thing of the past!
Crafted from premium, thick, and durable plastic, our furniture sliders are built to withstand rigorous usage on both hardwood floors and carpets. Their reusability is a testament to their quality and longevity, providing you with a reliable solution that lasts.
X-PROTECTOR proudly holds a registered trademark, ensuring that you receive an authentic product. We stand behind our Multi-Surface Furniture Sliders and guarantee 100% customer satisfaction. If for any reason you're dissatisfied, we offer a refund. Your order is risk-free, so go ahead and click "Add to Cart" now!
Details
Quantity: 4 pcs of tight socks + 4 pcs of furniture sliders

Size: 5" 
Color: Brown
Materials: Rubber Foam, Plastic with Felt Hardwood Socks
Ideal to use on all types of furniture: tables, sofas, and beds.
EAN
5060664332102

Additional description
Introducing the all-new Multi-Surface Sliders featuring detachable socks, designed for both Hard Floors and Carpets! Nothing can impede your progress with these sliders by your side.
This package includes:
A set of 4 circular Furniture Moving Pads designed for carpets.
4 Hardwood Socks suitable for use on all surfaces.
The contents comprise:
4 robust furniture sliders tailored for hardwood floors, ideal for carpeted areas and more.
4 interchangeable socks that can be affixed to the heavy-duty sliders, allowing furniture to glide seamlessly across various hard surfaces such as wood, linoleum, and tile.
Boasting an ideal diameter of 5 inches, these movers are generously sized to be highly effective with all sorts of furniture and items found in homes and offices. Their capability extends to even the most weighty of items, including tables, sofas, beds, dressers, recliners, bookcases, cabinets, and large appliances.
INSTRUCTIONS FOR USAGE:
On Carpeted Floors:
Position the plastic sliders beneath the furniture legs to facilitate movement across the carpeted floor.

You have the option to either retain the sliders beneath the furniture leg or retrieve them for future use with other pieces of furniture.
On Hard Floors:
1. Attach the hardwood socks to the plastic sliders.
2. Place the sliders equipped with hardwood socks beneath the furniture legs, allowing you to easily move the furniture across various types of hard floors.
3. After usage, decide whether to leave the sliders beneath the furniture leg or to reclaim them for future application with different furniture items.
Main Advantages of Multi-Surface Furniture Sliders:
| | | | |
| --- | --- | --- | --- |
| A set of plastic sliders and hardwood socks help to Prevent Scratches and Dents on Hardwood & Carpeted floors! | REUSABLE multi-surface sliders - just put the hardwood socks to use on the hardwood floor, or take them off and use them on any type of carpet! | Perfect for ALL types of floor in your beloved Home: hardwood, linoleum, tiled, carpeted, etc. | DUAL FUNCTIONALITY - premium quality TIGHT SOCKS, don't worry about slipping off! |
Utilizing X-PROTECTOR FURNITURE SLIDERS enables effortless movement of a wide range of furniture and items, including tables, beds, sofas, recliners, and other hefty pieces.
Should our FURNITURE SLIDERS not meet your satisfaction, we are dedicated to addressing any concerns.
X-PROTECTOR guarantees superior quality and enduring effectiveness, catering to all your furniture-moving and floor-protection requirements.