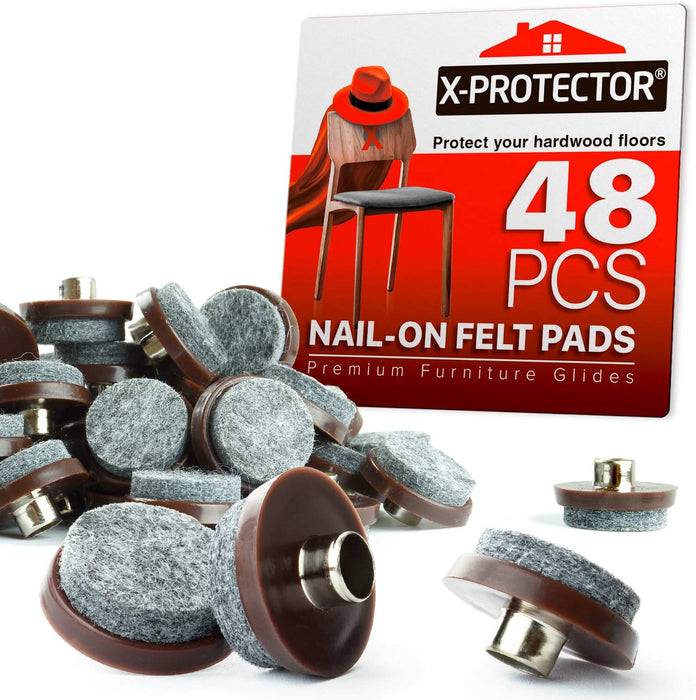 Nail-On Felt Pads by X-Protector 48 pcs - Felt Furniture Pads – 1" - Protect Your Hardwood Floors!
Save

$1.00
Save

$1.00
Original price
$13.91
-
Original price
$13.91
Sick of scratches and scuffs all over the floor? Can't stand annoying sound when you move your chairs? Our nail on felt pads will keep your hardwood, tile, vinyl, laminate or any other hard flooring protected! Furniture felt pads X-PROTECTOR – BEST FELT PADS for Furniture on Hardwood Floors!
Details
Quantity: 48 pcs
Size: 1"
Color: Gray
Materials: Durable thick felt layer, high-quality cylindrical steel nail
Video
EAN
5060664330429
Additional Description
WHY X-PROTECTOR NAIL-ON FELT PADS ARE THE BEST SOLUTION:
HIGH QUALITY – our heavy-duty felt pads are made of sturdy high-quality felt, which provide strong protection for your floors, furniture and other surfaces.
DURABILITY - In comparision with other cheap adhesive chair leg pads, our floor protectors for furniture legs have HIGH-QUALITY SYLINDRICAL NAIL which makes heavy duty felt pads much more durable.
UNIVERSALITY – our nail-on felt furniture pads for hardwood floors are suitable for any type of chair legs, furniture feet and other household furniture. Perfect for any kind of hard flooring. It ill keep your hardwood, tile, vinyl or laminate floor protected.
PERFECT SIZE TO FIT MOST OF YOUR FURNITURE – We made set of 48 pcs of 1" felt chair pads for total protection of furniture and surfaces in your home.
WE LOVE OUR CUSTOMERS AND MAKE EVERY EFFORT FOR THEM!
| | | | |
| --- | --- | --- | --- |
| Firstly, you need to clean the surface of the furniture feet. Then place the nail in the center of the wooden furniture leg and carefully tap the nail into it. | Our chair leg floor protectors have an extra-strong metal nail, that ensures that our heavy duty felt pads will not come off for a long time. | Now no need to repair the damaged floor. Forget about scratches, scuffs, and annoying noise when you move chairs and recliners with our floor protectors for furniture legs. | X-PROTECTOR felt pads perfect for all types of floor: hardwood, laminate, vinyl, tile, and others. |
IF YOU ARE FED UP WITH SCRATCHES AND SCUFFS ON YOUR WOODEN, LAMINATE OR TILE FLOORS, ADD THIS SET TO THE CART!
PREVENT SCRATCHES WITH  FELT PADS BY X-PROTECTOR!