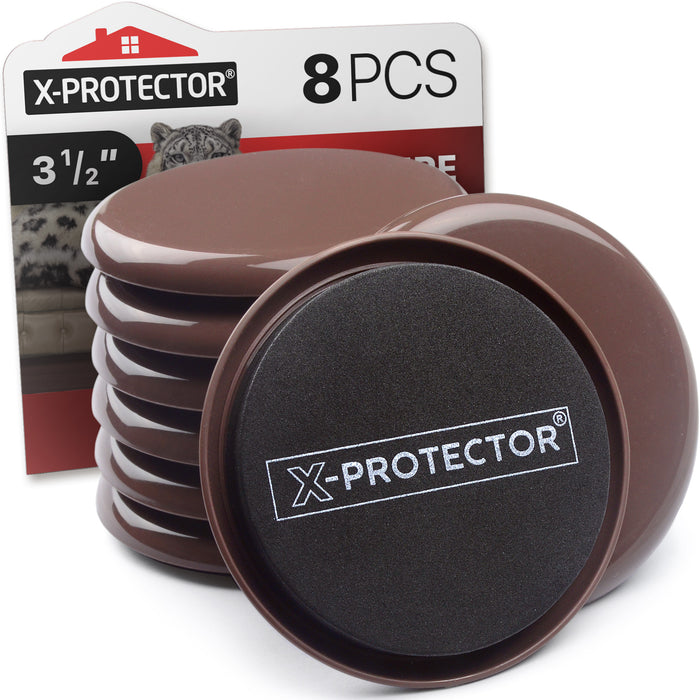 X-PROTECTOR Furniture Sliders for Carpet - 8 pcs Best Heavy Moving Pads 3.5" - Sliders for Furniture - Move Your Furniture Easy with Reusable Furniture Movers Sliders for Carpets!
Save

$0.00
Save

$-9.91
Original price
$9.91
-
Original price
$9.91
Is your furniture too cumbersome to move easily, causing scratches on your floors in the process? Say goodbye to these issues with X-Protector® Premium Furniture Movers!
Heavy Furniture Sliders for Carpet - Simply place our moving pads beneath your heavy furniture and effortlessly glide it across.
Size Matters! Our furniture sliders are ideal for heavy furniture, providing optimal weight distribution on the floor. Their larger diameter prevents floor scratches and makes moving considerably smoother compared to smaller furniture glides and sliders.
Our floor sliders are crafted from premium materials and are designed for repeated use. They don't rely on glue on the top but rather securely grip furniture with rubber foam. They're built to serve you time and time again!
X-Protector® is a registered trademark - Beware of imitations. We stand by our furniture movers and guarantee 100% satisfaction. If you're not happy with our furniture sliders, we will refund your money! Order now with zero risk by clicking the "Add to Cart" button immediately!
Details
Quantity: 8 pcs of furniture sliders 
Size: 3.5" 
Color: Brown
Materials: Plastic, and Rubber Foam
Ideal to use on all types of furniture: tables, sofas, or beds.
Video
EAN
5060664330559
Additional description
Is it a challenge to relocate the dresser or sofa across the carpeted floor?
Is it feasible to effortlessly and securely shift your furniture?
X-PROTECTOR's reusable brown furniture sliders designed for carpets can help conserve your time, energy, and well-being!
Introducing brand-new sliders for carpeted floors! Absolutely nothing can impede your progress!
You'll receive a set of 8 heavy-duty furniture moving pads, designed to make moving ANY FURNITURE, especially heavy pieces, a breeze with our furniture gliders for carpeted floors.
These carpeted furniture pads boast an ideal diameter of 3 1/2 inches – the perfect size for our furniture movers' sliders (moving disks), ensuring their effectiveness with all types of home furniture.
User-friendly in operation – Simply place the furniture sliders beneath your sofa, table, dresser, or any sizable items, enabling you to effortlessly and swiftly glide them. No need to fret about maneuvering bulky objects across your carpet.
Ideal for all your furnishings – Whether it's a chair, sofa, table, bed, dresser, cabinet, recliner, heavy appliances, and more, these sliders are the perfect solution.
Crafted for durability – We employ top-quality materials, featuring robust thick plastic and durable rubber foam, ensuring that our furniture sliders for moving will serve you for an extended period.
Reusable – The rubber foam on our furniture glides and sliders firmly secure your furniture, guaranteeing a long-lasting grip. Simply place our furniture coasters beneath the furniture legs (use a lifter or furniture jack if necessary). After repositioning your furniture, remove the floor sliders from the furniture feet, whether they are round or square – it doesn't matter. You can use them again or leave them beneath the furniture for effortless relocation and cleaning.
SAVE YOUR FLOORS AND ENERGY WITH SLIDERS FOR MOVING FURNITURE X-PROTECTOR!
Check out more of our products by visiting the links below!
X-Protector liability does not exceed the cost of the product.