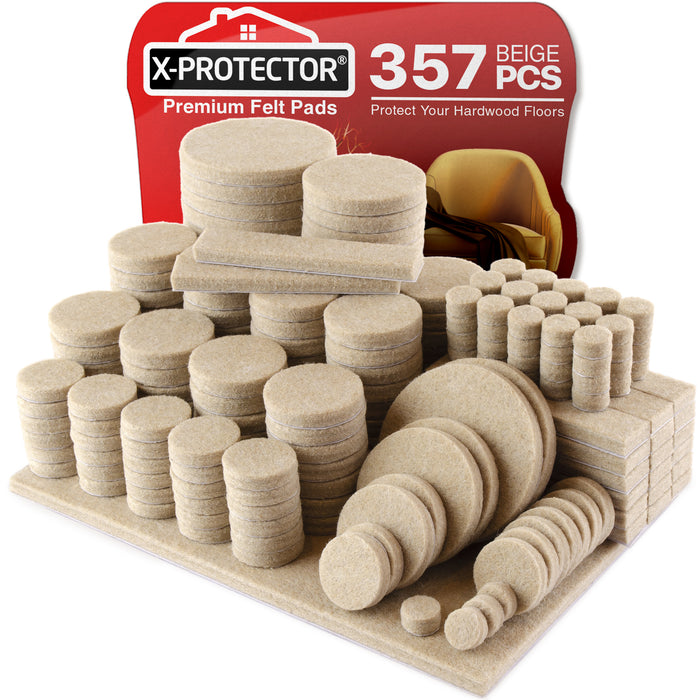 X-Protector Beige Felt Furniture Pads 357 pcs - Ideal Wood Floor Protectors for Furniture - Huge Quantity of Furniture Pads for Hardwood Floors with Many Big Sizes – Protect Any Type of Hard Floor
Save

$1.00
Save

$1.00
Original price
$19.91
-
Original price
$19.91
A huge quantity of wood floor protectors by X-Protector are made to keep your flooring safe and beautiful! Our furniture pads create a strong shield that carefully protects the surface.
You can use our furniture felt pads on hardwood, bamboo, or tile floors. Furniture leg protectors are perfect for any type of home furniture feet.
357 pcs of the most popular sizes and different shapes for each house:
4 1/3x6" - 1 pad (for heavy furniture: beds, cabinets),
2 1/2x1/2" - 30 pcs (for dresser's cabinet),
2" - 16 pcs (round),
2x2" - 16 pcs (for table legs),
1 1/2" - 32 pcs (for table legs, chair, and armchair legs),
1x1" - 42 pcs (for chair and armchair legs),
1" - 96 pcs (round),
3/4" - 60 pcs (round for small chairs, vases, or plant pots),
3/8" - 64 pcs (round for small items).
Details
Quantity: 357 pcs.

Color: Beige.
Materials: strong eco-friendly material with recycled fiber with tenacious adhesive.

UPC
5060664331150
Additional description
Do you like to see scratches and scuffs on the floor in Your lovely home?
Imagine that you look at the wooden or laminate floor one sunny day and see it was all covered with scratches by the seats and chairs.
How much effort and money will You spend to remove these scratches?
Felt furniture pads for hardwood floors X-PROTECTOR prevent the appearance of such problems in the future and protect wooden and laminated surfaces in your home from scratches and scuffs!
HIGH QUALITY – felt chair pads X-PROTECTOR are made of great quality felt and give to Your floor, furniture, and other surfaces caring solid protection.
IT'S ENOUGH FOR ALL IN YOUR HOME – you can protect with our wood floor protectors any type of chair legs, furniture feet, and other home furniture, electricals, and other items: chair, bed, stools, sofa, ottoman, recliner, desk, dinner and coffee table, vases, ashtrays.
LARGE PACK of Beige felt furniture pads contains:
64 pcs round 3/8 in - for small items.

60 pcs round 3/4 in - for small chairs, vases, plant pots, etc.

96 pcs round 1 in - for chair & arm-chair legs.

32 pcs round 1½ in - for chair, table legs kitchen dining set.

16 pcs round 2 in - for table legs, recliners.

42 pcs square 1x1 in - for chair & arm-chair legs.

16 pcs - square 2x2 in - for table legs, and recliners.

30 stripes 2½x½ in - for dresser's cabinet.

1 pad - 4 1/3x6 in - for heavy furniture – beds, cabinets, and dressers. You can cut out the shape and size you need.
MAIN ADVANTAGES OF FELT FURNITURE PADS BY X-PROTECTOR:
| | | | |
| --- | --- | --- | --- |
| First of all, you need to clean the surface of the furniture feet. Then peel the felt pad from the paper and stick it on the feet. | Our chair leg floor protectors have tenacious adhesive which tightly holds pads on the furniture feet for a long period of time. | Now no need to repair the damaged floor. Forget about scratches, scuffs, and annoying noise when you move chairs and recliners with our felt furniture sliders. | X-Protector felt pads perfect for all types of floors: hardwood, laminate, vinyl, tile, and others. |
X-Protector is a chief in the design, creation, and distribution of surface protection products. We use the newest technology and development in combination with an extreme commitment to excellence to deliver quality products for all furniture in your lovely home.
We will bring You peace of mind about the safety of Your floor - just protect it from scratches with X-Protector.