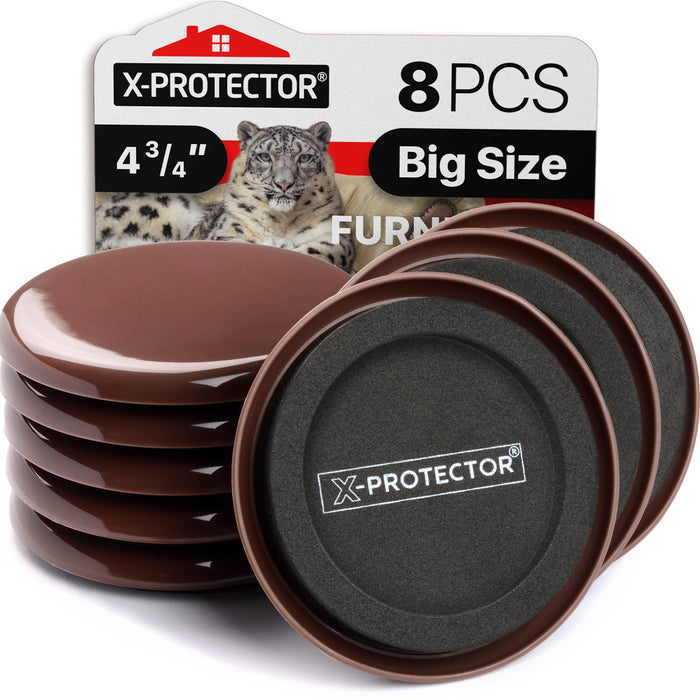 The Best Heavy-Duty Furniture Sliders for Carpet by X-PROTECTOR 8 pcs 4.75" - Moving Pads - Sliders for Furniture with Unique Design - Move Your Furniture Easily with Furniture Sliders for Carpets!
Save

$1.00
Save

$1.00
Original price
$11.99
-
Original price
$11.99
Struggling with the weight of your furniture when trying to move it? Tired of leaving scratches on your floors during furniture relocation? Say goodbye to those concerns with X-PROTECTOR's Premium Furniture Movers!
These Heavy-Duty Furniture Sliders are designed specifically for carpeted surfaces. Simply place our moving pads beneath your hefty furniture and effortlessly glide it across any carpeted area.
The right size matters! Our furniture sliders are expertly sized to cater to all types of weighty furniture, ensuring optimal weight distribution on the floor. These substantial furniture pads act as a shield, preventing dents and scuffs on your valuable carpets.
Featuring a distinctive design and offering reusability, our wood floor sliders are crafted from robust plastic and rubber foam. Unlike traditional adhesives, these sliders securely grip furniture feet without leaving any residue, ensuring a durable hold for as long as you require.
With a registered trademark, X-PROTECTOR stands as your assurance of authenticity. We are committed to ensuring 100% customer satisfaction with our Furniture Movers. If they don't meet your expectations, we offer a refund. Place your order now without any hesitation—simply click the "Add to Cart" button!
Details
Quantity: 8 pcs
Size: 4 3/4" hardwood floor sliders
Color: Black with Beige
Materials: Heavy felt and rubber foam
Ideal to use on all types of furniture: tables, sofas, and beds.
UPC

5060664332140

Additional description
Struggling with maneuvering your dresser or sofa on a carpeted floor?
Wondering if there's a way to achieve EFFORTLESS and SECURE furniture movement?
Discover the solution with X-PROTECTOR's Reusable Brown Furniture Sliders for Carpets! These sliders are your time-saving, energy-efficient, and health-preserving answer.
Introducing the latest innovation: Sliders designed specifically for Carpeted Floors! No obstacles can hinder your progress!
This package includes a comprehensive set of 8 Heavy-Duty Furniture Moving Pads. Moving any piece of furniture becomes a breeze, particularly those on the heavier side, thanks to our purpose-built furniture gliders tailored for carpeted floors.
Designed with an ideal diameter of 4 3/4", these furniture pads are perfectly sized for optimal performance. Their precise dimensions ensure that our furniture mover's sliders (moving disks) are supremely effective with all types of home furniture.
SIMPLE TO OPERATE – Just position the furniture sliders beneath your sofa, table, dresser, or any substantial items, and you can effortlessly and swiftly glide them. Bid farewell to concerns about shifting sizable objects across your carpet.
IDEAL FOR ALL YOUR FURNITURE – Whether it's a chair, sofa, table, bed, dresser, cabinet, recliner, or hefty appliances, these sliders are a perfect fit.
ENGINEERED FOR LONG-LASTING PERFORMANCE – Employing top-tier materials, including robust thick plastic and durable rubber foam, ensures that our furniture sliders for moving are built to serve you over an extended duration.
REUSABLE FUNCTIONALITY – Our furniture glides and sliders boast rubber foam that grips furniture securely, maintaining a steadfast hold. Place our furniture coasters beneath the furniture leg (utilize a lifter or furniture jack if needed), and after rearranging, detach the floor sliders from the furniture feet (whether round or square – the shape doesn't matter) for subsequent usage. Alternatively, leave them beneath the furniture for convenient movement and cleaning.
Preserve Your Floors and Conserve Energy with X-PROTECTOR Furniture Moving Sliders!