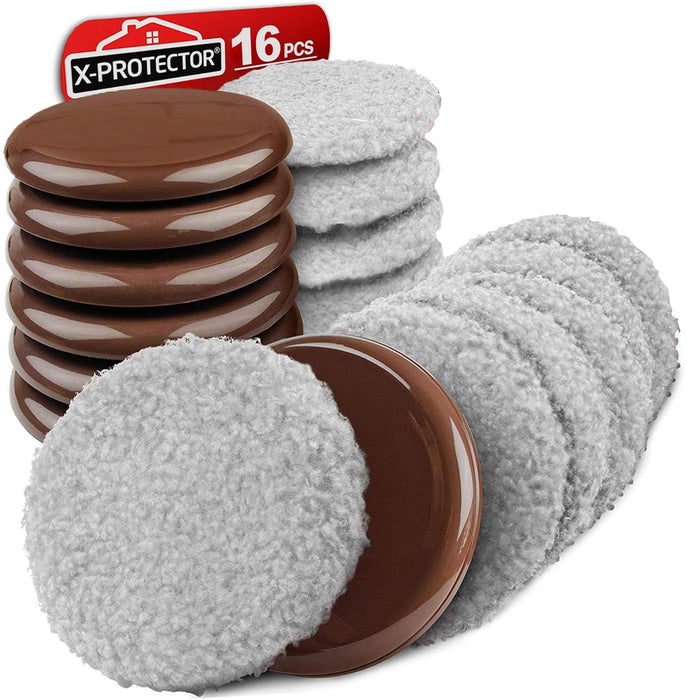 Furniture Sliders by X-PROTECTOR - Multi-Surface Floor and Carpet Protectors with Socks - 16 Pack 3 1/2" Moving Pads!
Save

$1.00
Save

$1.00
Original price
$15.91
-
Original price
$15.91
YOU ARE NOW IN THE PROCESS OF MOVING AND WONDERING WHAT SHOULD BE DONE TO HELP YOUR FURNITURE SLIDE EASY ACROSS THE APARTMENT? We have a small hint on how to make things work – GET MULTI-SURFACE FURNITURE MOVERS X-PROTECTOR – do not put pressure on your back and MOVE THINGS EFFORTLESSLY!
Details
Quantity: 8 pcs of furniture sliders and 8 pcs of tight socks 
Size: 3 1/2" 
Color: Black/Brown
Materials: Plastic, Rubber Foam, Felt & Hardwood Socks
Ideal to use on all types of furniture: tables, sofas, beds, recliners, etc.
Video
EAN
5060664330184

Additional description
NEW concept - Multi-Surface Sliders! Here you get both sliders for rugs/carpets and hard floors socks that can be easily removed!  We developed this set exactly FOR YOUR NEEDS!
8 FURNITURE SLIDERS (slider discs) THAT HELP WITH SLIDING ON CARPETED FLOORS, AREA RUGS, etc.
8 REMOVABLE FURNITURE SOCKS – HEARRANGE HEAVY-WEIGHT THINGS ON ALL SURFACES LIKE WOODEN FLOORS, TILED surfaces, LINOLEUM, CERAMICS, etc.
WE OFFER PERFECT SIZE 3 1/2" – you can use it for most furniture legs and not worry about moving it on recently installed floor or new carpets! HEAVY furniture can and SHOULD be SLIDING SMOOTHLY!
USING ADVICE:
FOR CARPETS:
Just lift legs a bit up to attach plastic sliders underneath. Now it's ready to be moved across rugs or carpets.
After you rearranged the furniture, there are two options: either let sliders stay under for easy cleaning/moving or take them off and keep for other uses.
FOR HARD SURFACES:
Cover plastic sliders with furniture socks.
Attach moving pads on the bottom of furniture that needs to be moved across hard flooring.
After you rearranged everything you needed, there are two options: either let sliders stay under for easy cleaning/moving or take them off and keep for other uses.
Reasons why we recommend you choose Multi-Surface Furniture Sliders by X-Protector?
| | | |
| --- | --- | --- |
| It will help you to keep all surfaces secured while moving heavy pieces across it: tiled floors, wooden, laminate, linoleum, ceramics, etc. | REUSABLE multi-surface sliders - just put the hardwood socks to use it on the hardwood floor, or take them off to use them on any type of carpets! | Our furniture sliders with socks are good for any kind of floor. |
It's possible to slide any furniture with little effort and no floor scuffs. Attach X-PROTECTOR FURNITURE SLIDERS under the bed, coffee or dining tables, loveseats, recliners, and anything else.
WE PROVIDE ALL OUR CUSTOMERS A FULL REFUND GUARANTEE IF SOMETHING DOEN'T YOU'RE YOUR EXPECTATIONS.